Print Appearances
L'unico's Luxury Skincare range has been featured in a range of magazines nationally, including:
Read the Editorials
L'unico Skincare has featured in articles in national magazines. Click on the image below to read the feature.
Sydney Wedding Magazine
Spa+Clinic
Aesthetic Medical Practitioner
L'unico's luxury skincare range has generated a media storm since launching in early 2017.
Press Releases
Read our Press Releases to get the inside story on L'unico luxury skincare.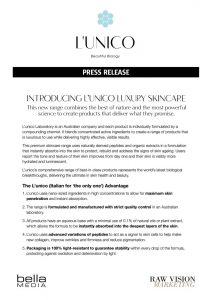 INTRODUCING L'UNICO LUXURY SKINCARE
This new range combines the best of nature and the most powerful science to create products that deliver what they promise.
L'unico Laboratory is an Australian company and each product is individually formulated by a
compounding chemist. It blends concentrated active ingredients to create a range of products that
is luxurious to use while delivering highly effective, visible results.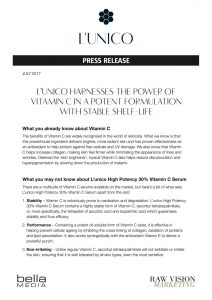 L'UNICO HARNESSES THE POWER OF VITAMIN C IN A POTENT FORMULATION WITH STABLE SHELF-LIFE
What you already know about Vitamin C
The benefits of Vitamin C are widely recognised in the world of skincare. What we know is that this powerhouse ingredient delivers brighter, more radiant skin and has proven effectiveness as an antioxidant to help protect against free radicals and UV damage. We also know that Vitamin C helps increase collagen, making skin feel firmer while minimising the appearance of lines and wrinkles. Deemed the 'skin brightener', topical Vitamin C also helps reduce discolouration and hyperpigmentation by slowing down the production of melanin.